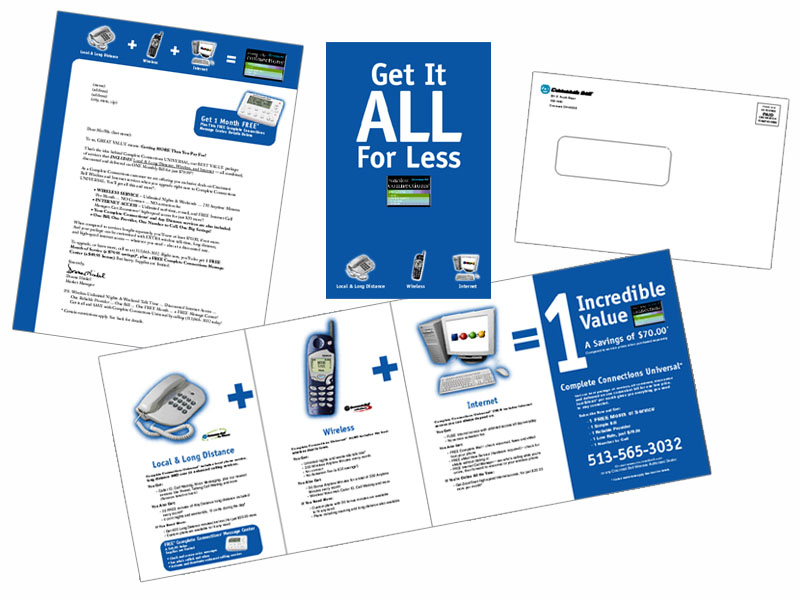 Cincinnati Bell achieved a 478% lift over all previous efforts to sell their three-product, $79/month service bundle. Household-specific variable laser copy and an easy-to-understand brochure simplified the story and clearly communicated the relevance of this offer to each household. 100,000 pieces delivered 3,634 initial sales. Additional mailings yielded over 10,000 CCU accounts and tremendous recurring revenue. This campaign won a GOLD APEX AWARD from The Southern Ohio DMA.
RESULTS

CINCINNATI BELL achieved a 478% lift over all previous efforts to sell Complete Connections Universal (CCU), their three-product service bundle.

HUNTINGTON NATIONAL BANK'S business-to-business lead generation approach delivered a 96.25% response rate and over $200 million in new booked loan volume.

LOWE'S Manager's Select Gold loyalty program engaged Lowe's top-tier credit customers with home improvement news and ideas and generated over $2 million in incremental margin.

PROVIDENT BANK'S integrated home equity campaign increased year-over-year application volume by 54% yielding a 42% increase in booked credit lines.

RADIOSHACK'S rebranding and relaunch of their private-label credit card included a direct mail test that yielded $4.2 million in incremental sales over a no-mail control group.

ZOOMTOWN'S integrated Business DSL campaign helped them exceed annual sales and revenue goals by $5 million.